How To Earn Bitcoin With Rollercoin
Date: 2021-09-17

Cryptocurrency is the new future: starting from bitcoin to litecoin, USDT, dogecoin, and ethereum, they have been commanding in the market for a while and will continue to. It would help if you learned more about crypto coins and their possibilities as it offers a heap of advantages. People think that it will need a large amount of money to invest in and buy them. What if you can earn cryptocurrencies just by playing games? Sounds interesting, right? Let's have a look.
How to earn crypto with Rollercoin?
With the pandemic ruling every part of the world, the economic crisis has been a common issue everywhere. People confined to homes not having an income is the hardest part. What if you could gain money by sitting home and using your brains by analyzing the market trends? It will be more than a boon. If you think so, cryptocurrency can help you.
What is Rollercoin?
Rollercoin represents an online bitcoin mining game where you compete against people around the world to earn bitcoins. In short, you can play games and earn bitcoins. It works on the principle of bitcoin mining, but here you don't have to worry about the complexity of the process. You can use your gaming skills, perform tasks and missions, and play games to buy the required crypto you need.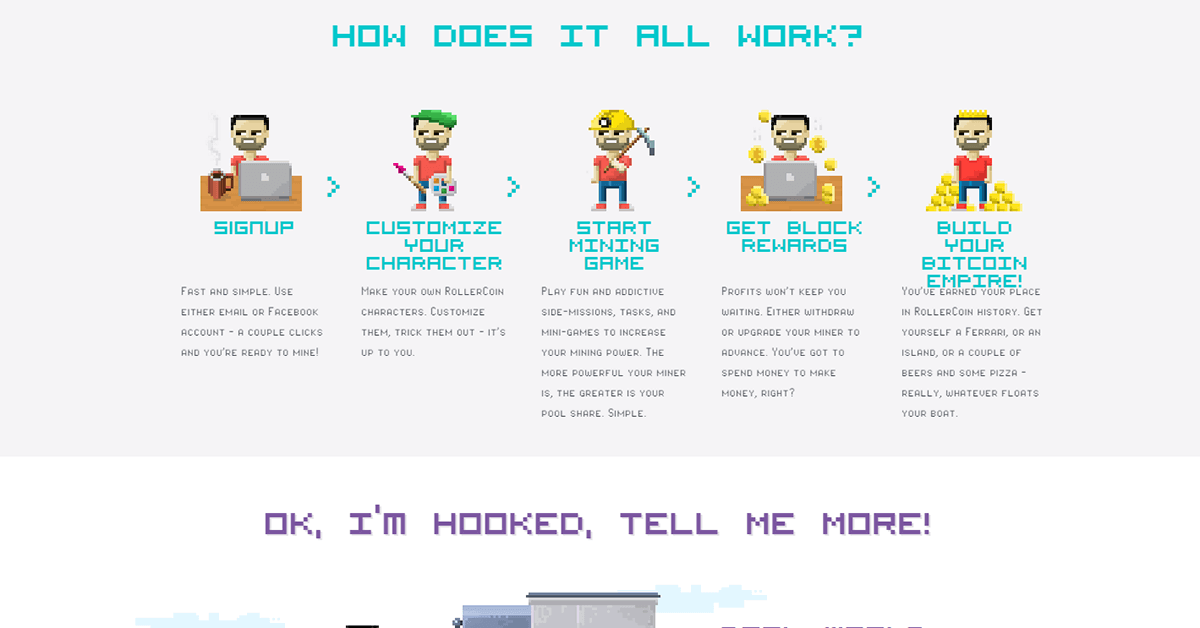 The program offers simple usage, cutting down the complex processes of investment. All you have to do is signup for the system, customize your character and start playing! You can also build your data mining center and perform upgrades in the long run if you wish to, thereby elevating your experience and profit.
The process
1.- Create a new account
First of all, make a new account in Rollercoin. You can use your Facebook or email for this purpose. You are ready to mine after creating the account.
2.- Create your character
You will have a default character design already in store. You can customize it if you want. Choose your favorite personality and hit enter!
3.- Start mining
Now, you can play your favorite missions and games and start earning. There are two ways to make money on Rollercoin:
• By playing games on their website
• Buying miners to do the job
Your earning depends on your miner; the more he mines, the larger is your profit. So, it's better to upgrade the miner to advanced so that you can reap maximum benefit. Also, the extraction power of the hash rate has a validity of only 24 hours when gained through gaming. So using miners is the best option.
Working
The earning depends on the user's hash rate, which is achieved by playing mini-games: the more the games, the larger the hash rate and the larger the profit. One must decide how much power from the hash rate should allocate to mine coins. For, e.g., you can use all of your energy to be spent on BTC. You can distribute it as half between Bitcoin and Ethereum or divide among all the three coins on the distribution of 33%.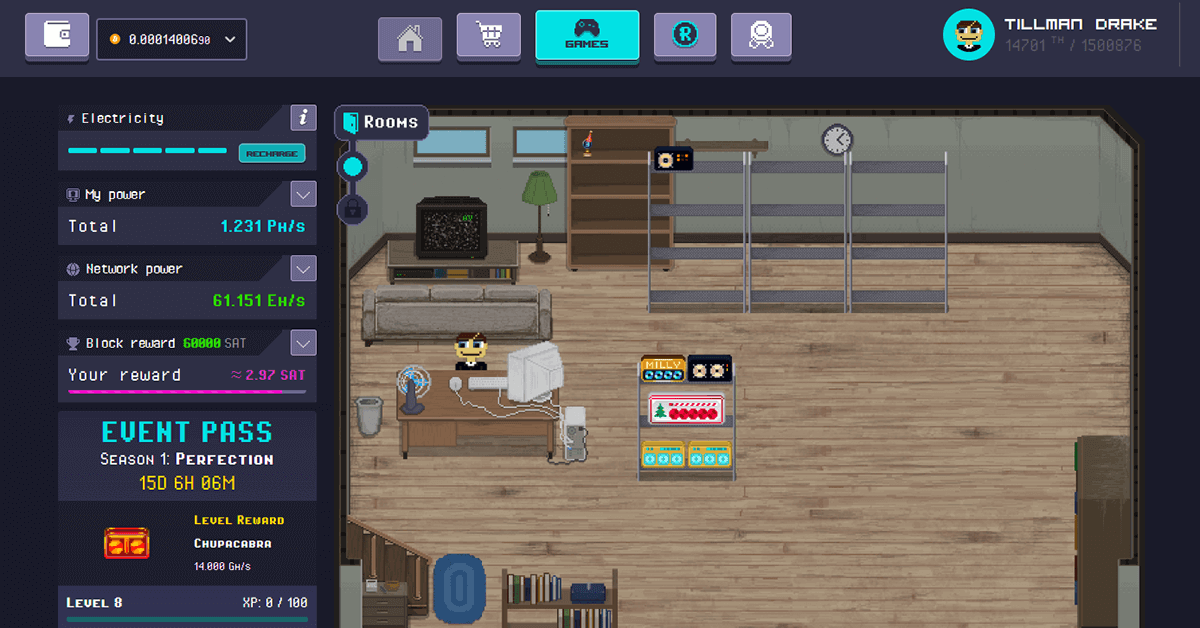 The primary trick you should understand is that since many people mine coins, the profit depends on the people mining a specific block. The critical point is that you can profit from investing in fewer mined coins, increasing your earnings. Consider a situation in which 7000 users are mining BTC while 1000 people are doing it on Ethereum. Go for Ethereum as they can give you more returns.
Mini-games
Ten mini-games are available on the site for users to play. Tetris, memory match, ping pong, and more games are available. The hash rate of each game varies according to its complexity. The best options are Tetris and memory match. The token blaster can potentiate your hash rate levels, but it isn't easy to play.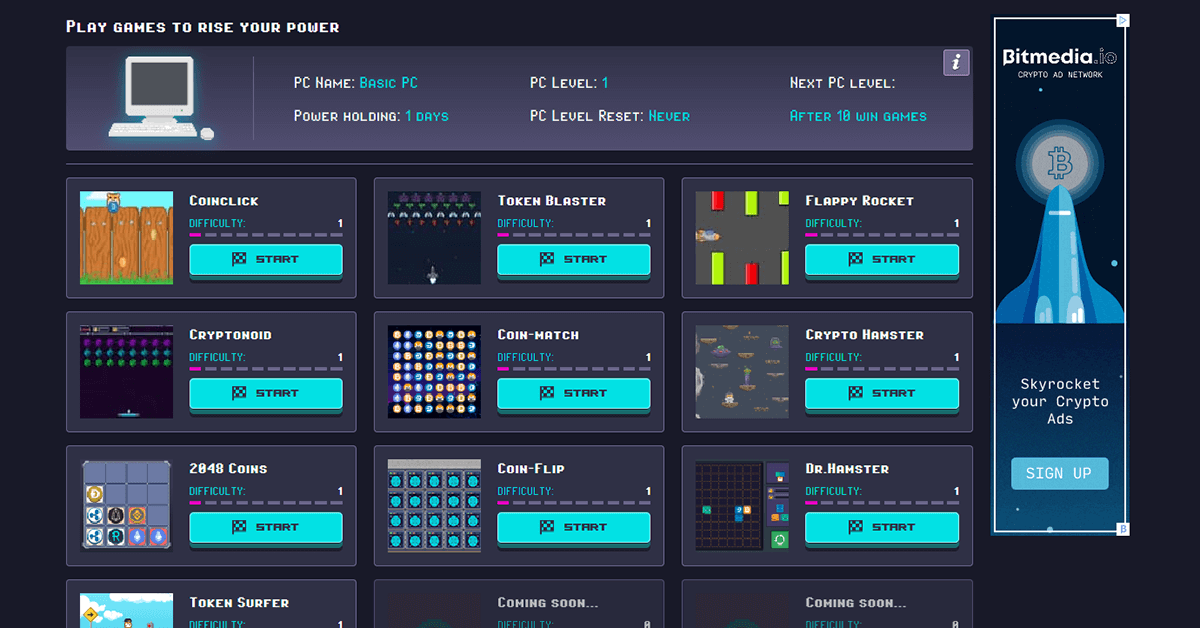 Miners
The best advantage of miners is that you get a permanent hash rate. Once you adopt miners, it is advisable to leave mini-games aside and focus on this. Different miners provide different power. Do not spend on the cheapest miners, but save your money for events like Christmas or Halloween and buy experienced miners, who offer discounts on such occasions.
How to withdraw your earnings?
In Rollercoin, you will be getting earnings in the form of Satoshi, which is the Bitcoin with the lowest value. The money goes to your wallet, and you can decide the payment withdrawal method. If you wish to withdraw it to your Bitcoin wallet, select the wallet and enter the Bitcoin wallet address.
Season Pass: The game-changer
Recently, the Rollercoin website added a new feature called season pass, which is one of the most exciting parts of the game to date. Statistics indicate the season pass has been a real game-changer in the field and is winning hearts.
The feature offers that in the coming 60 days, you should complete daily tasks and weekly missions and gain as much XP as you can. It can help you collect rewards. The event is cost-free, and everyone can participate in it and earn rewards. It is advisable to upgrade the season pass as you go further with the help of RLT to get the highest profit. You will be rewarded with beneficial prices for sure.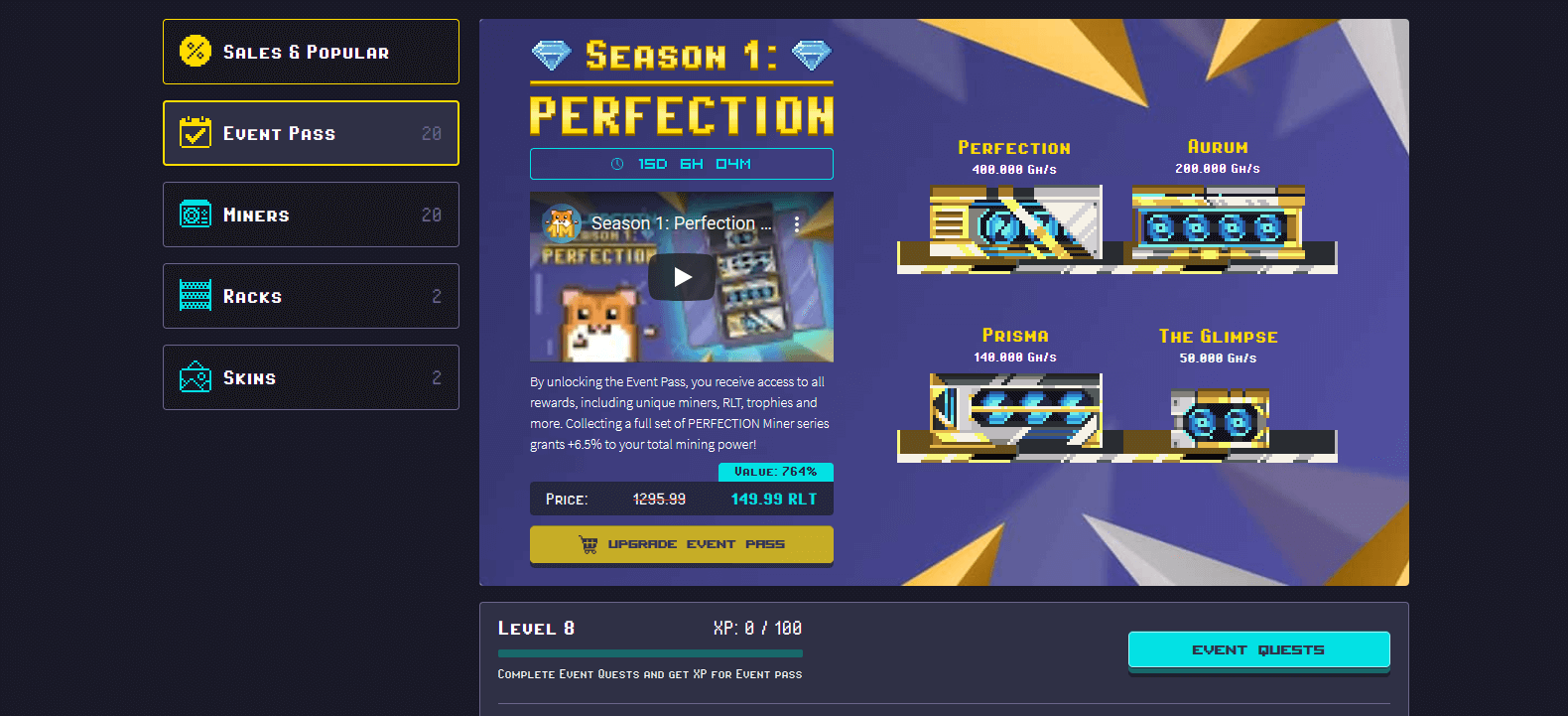 New weekly quests have been added concerning the season pass, which contains various tasks. Complete the tasks, gain XP and boost your XP level. Don't worry that you will get bored with the same challenges. The weekly assignments are refreshed every seven days, bringing new ones. Complete all the tasks before the weekend and traverse into new ones.
If you are confused about participating in the season pass, you can check the animated season pass tutorial, which gives comprehensive and precise details about the same. It helps beginners play comfortably without hesitation.
Updated shops
Along with the season pass, Rollercoin has updated its shop with new features. These include daily offers where you get deals on miners, beautiful skins, decoration items, and collections that give bonus percentages.

Conclusion
In short, Rollercoin is one of the easiest ways to gain access to cryptocurrencies and monetize them. You have to display your gaming skills, and the money is yours. It is a real boon for people who want to earn free crypto coins. Rollercoin is entirely legit. You can check your satoshi anytime and transfer it into your Bitcoin wallet. So, sign up for Rollercoin and start earning.